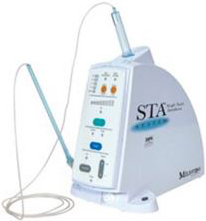 At Hakuna Matata Pediatric Dentistry, our board certified pediatric dentist strives to stay abreast of the latest dental advances. Learn more about the cutting-edge technologies offered at our pediatric dental practice below. You can request an appointment online or by calling 239-232-4000.
SINGLE TOOTH ANETHESIA
Single tooth anesthesia is the first computer-controlled local dental anesthetic system. Unlike the traditional dental syringe application of anesthesia, STA is a kid-friendly painless alternative that eliminates the need for a dental injection. Say goodbye to the traditional needle at Hakuna Matata Pediatric Dentistry!
ORAL DNA TESTING
Primary Prevention is one of our top priority here at Hakuna Matata Pediatric Dentsitry. We offer the OraRisk® Caries Test to you as a parent and to your child. OraRisk® Caries is a simple saliva screening test that identifies 3 types of harmful bacteria known to cause cavities: Streptococcus mutans, Streptococcus sobrinus & Lactobacillus casei. With this test help, we are able to address the carious disease of your child best. If interested, call to make an appointment at 239-232-4000.
INTRAORAL CAMERA
At Hakuna Matata Pediatric Dentistry, we will be able to show you on a TV screen a live, magnified picture of what we see on your child's teeth.
DIGITAL RADIOGRAPHY
The safety and comfort of your child is our priority. This is why offer low dose x-rays using the newest digital sensors in the country.
ISOLITE SYSTEMS
This system allows for faster, safer treatments by offering better isolation of the problem area in addition to better illumination and removal of water. The Isolite is a single use mouthpiece which eliminates any possibility of of cross contamination.
RESIN INFILTRATION ICON
With Icon, a cutting-edge resin infiltration system, we are able to treat both early-stage cavities and undesirable white spots on teeth. As a result, we can preserve healthy tooth structure. Icon is completely pain-free and involves no drilling.
SILVER DIAMINE FLUORIDE
Silver diamine fluoride, or SDF, is taking the dental world by storm. It's a fast and effective treatment for children that halts decay and prevents cavities. Hakuna Matata Pediatric Dentistry offers this innovative new treatment to their young patients as an alternative to drilling and filling. If you're in the Naples area, call or book an appointment online.
DENTAL LIGHTS
Our office is equipped with LED operatory lights above each patient that allow us to control the brightness to ensure no child is scared from the very bright dental light.
HANDPIECES OR "DRILLS"
Our office is equipped with the newest line of dental drills. No longer do children have to be scared by the high pitch noise of the dental drill. The only sound children will hear is the light rush of water to cool the bur.
PAPERLESS DIGITAL OFFICE
We've implemented a sophisticated electronic dental records system that allows our doctors to review dental charts and X-Rays through a monitor located at each dental chair.
CLOSED WATER SYSTEM
Our treatment chairside water is supplied using refillable bottles rather than plumbed from the existing city water system. This allows us to continually ensure the quality of the water supply and to completely drain each system independently to facilitate regular cleaning.
CALL TODAY 239 232 4000 TO MAKE AN APPOINTMENT!